Saigon Ca Phe Sua Da
Vietnam is a top country in coffee export, so long ago, drinking coffee has become the culture. Saigon people often enjoy coffee in the morning at roadside coffee shops after having breakfast. There are two main kinds: "ca phe sua da" (iced milk coffee) and "ca phe da" (iced coffee).
Ca Phe Sua Da
Vietnamese: Cà Phê Sữa Đá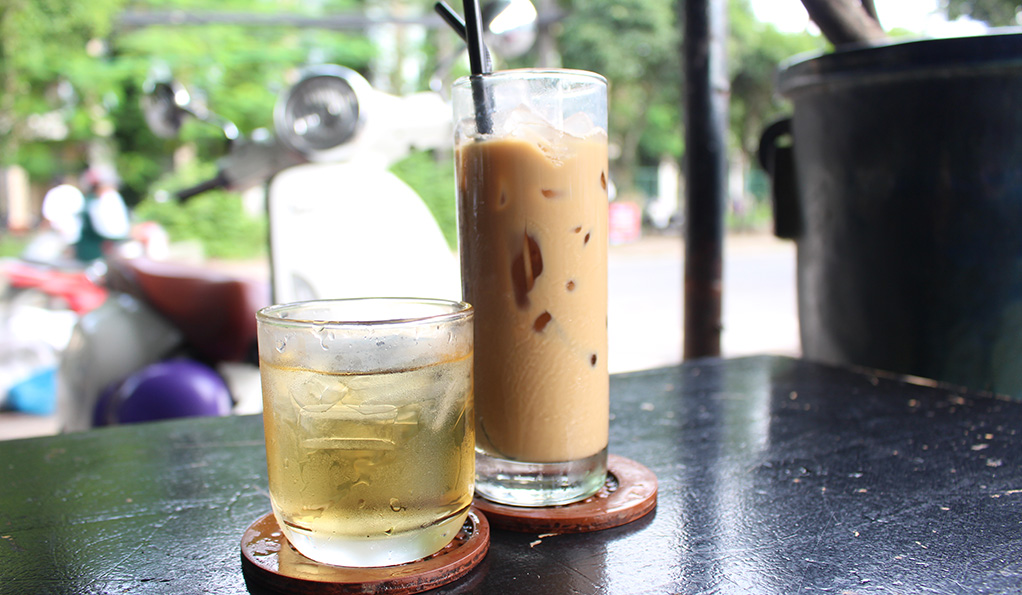 "Ca Phe Da" is using Vietnamese coffee (Usually used Robusta coffee) with a small metal Vietnamese drip filter (Phin coffee). Add about 1-2 teaspoons of coffee to Phin, then pour about 50-100ml of hot water, the Phin releases drops of hot coffee into a cup. After complete, this cup of hot coffee is added ice and sugar. Saigon people often drink coffee with milk instead of sugar, they usually add 1-2 tablespoons of condensed milk, it is called "Ca Phe Sua Da" 
The "Phin" Coffee
Saigon person familiar with the roadside cafe and that's part of their lives. Besides, Saigon has another popular way to drink coffee that is "bet coffee".
"Bet coffee" is without tables, chairs and coffee shops. You just go to a park (often the park near the Notre Dame Cathedral), sitting on the ground and will have a person come to sell coffee to you. Drinking, chatting with friends and watching motorcycle running, perhaps it would be an unforgettable memory for you.
EXPERIENCES
• In Ho Chi Minh City, cafe shops are everywhere. You should try at a local cafe shop, the price is just about 15 000 dong.
• Saigon people often drink coffee accompanied by Tra Da (ice tea), and it's free at most cafes.
• Most cafes have Wifi, you can ask the server for the password.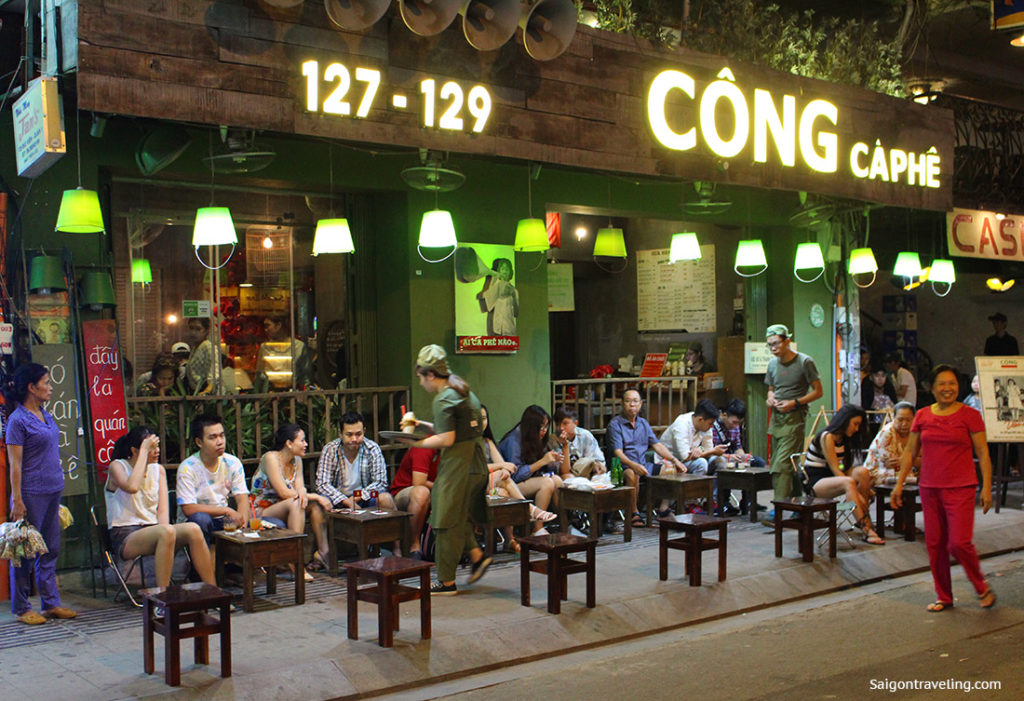 SUGGESTIONS
We would like to introduce you to some coffee shops that we found reasonable, we preferred the coffee shops in the Saigon Centre and easy to move.
1. Café Ut Lanh (8:00 am - 10:00 pm)
Address: 283/37 Pham Ngu Lao Street, Nguyen Thai Binh Ward, District 1, HCMC.
Price: 45,000 dong.
2. Trung Nguyen Legend (7:00am – 10:00pm).
Address: 07 Nguyen Van Chiem, Ben Nghe Ward, District 1, HCMC.
Price: 35,000 – 85,000 dong.
3. Phúc Long Coffee (10:00 am – 10:30 pm)
Address: 39 Nguyen Hue St., Ben Nghe Ward, District 1, Ho Chi Minh City. Price: 28,000 dong.
4. Cộng Cà Phê (7:00 am - 11:00 pm)
Address: 127 -129 Bui Vien Street, Pham Ngu Lao Ward. Price: 30,000 dong.