Com Tam Saigon
Com Tam (made from broken rice) is a popular dish in Sai Gon. Its main material is cooked rice (fractured rice grains) and other savory dishes.  A rice unit has grilled pork (either ribs or shredded), "bì" (pork skin are cooked and sliced) and Vietnamese sausages. It's served with vegetable, cucumber and tomato, attached to a small bowl of fish sauce and a small bowl of soup broth (canh).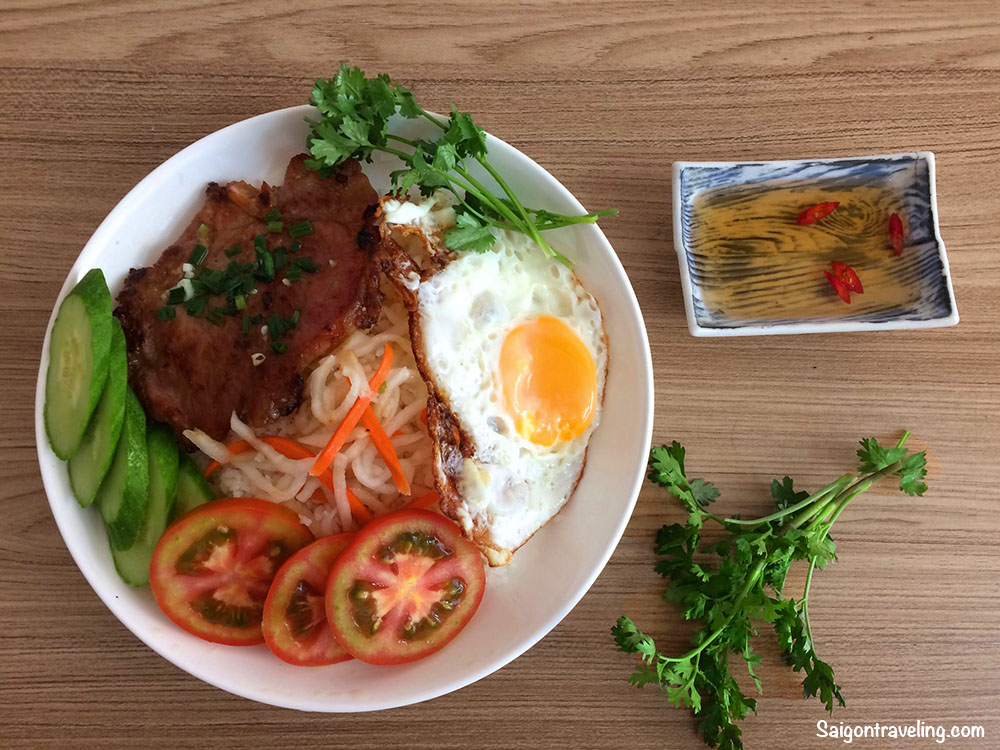 Tam is broken rice, after cooked it will be softer than ordinary rice, when combined with savory dishes and fish sauce, it will absorb more.
The sauce is usually fish sauce mixed with sugar and add garlic, chili, and lemon.
Vietnamese cuisine emphasizes yin and yang, and five-flavor. Sour often is lemon, spicy often is chili, salty is usually salt, sweet is usually sugar, bitter is usually vegetables. For Com Tam, yang is meat and eggs, yin is tomato and cucumber.
After eating Com Tam, the Saigoners often eat a small bowl of vegetable soup.
EXPERIENCES
Com Tam is the qualified dish for breakfast because it makes you not to feel hungry fast. You can also try it for your lunch and dinner.
Along with
Banh Mi
, Com Tam is a dish you must try in Saigon, it is not only a dish, but it is also a gift of the people here.
The sign of it is the words "Cơm Tấm'. You should choose the shop in which many natives are eating, it would be better.
The popular price: 25.000-60.000VND
SUGGESTIONS
We would like to introduce you to some restaurants that we found reasonable, we preferred the restaurants in the Saigon Centre and easy to move.
1. Restaurant Com Tam Cali (06:30 am - 11:00 pm)
Address: 236 Le Thanh Ton, Ben Thanh, District 1, HCMC
Price: 60,000 - 85,000 dong.
2. Com Tam Moc (7:00am - 9:00pm).
Address: 85 Ly Tu Trong, Ben Thanh, District I, HCMC.
Price: 45,000 - 65,000 dong.
3. Com Tam 86 (6:00pm - 00:00pm).
Address: 151 Co Giang, Co Giang Ward, District 1, HCMC.
Price: 35,000 - 55,000 dong.