Ho Thi Ky Flower Market
Located on a street of the same name, Ho Thi Ky is the largest flower market in Ho Chi Minh City, supplies flowers to the city and some provinces in the South of Vietnam. Founded in the 1980s, this is a rare place that upholds the characteristic of the old Saigon.
About 4km from the Saigon center, Ho Thi Ky flower market is a new destination for travelers, especially those who want to find an old Saigon. Along with Saigon Floating Flower Market (Ben Binh Dong), Ho Thi Ky flower market is one of the two most famous flower markets in Saigon; however, Saigon Floating Flower Market is only open for Lunar New Year so more and more visitors choose this place to visit.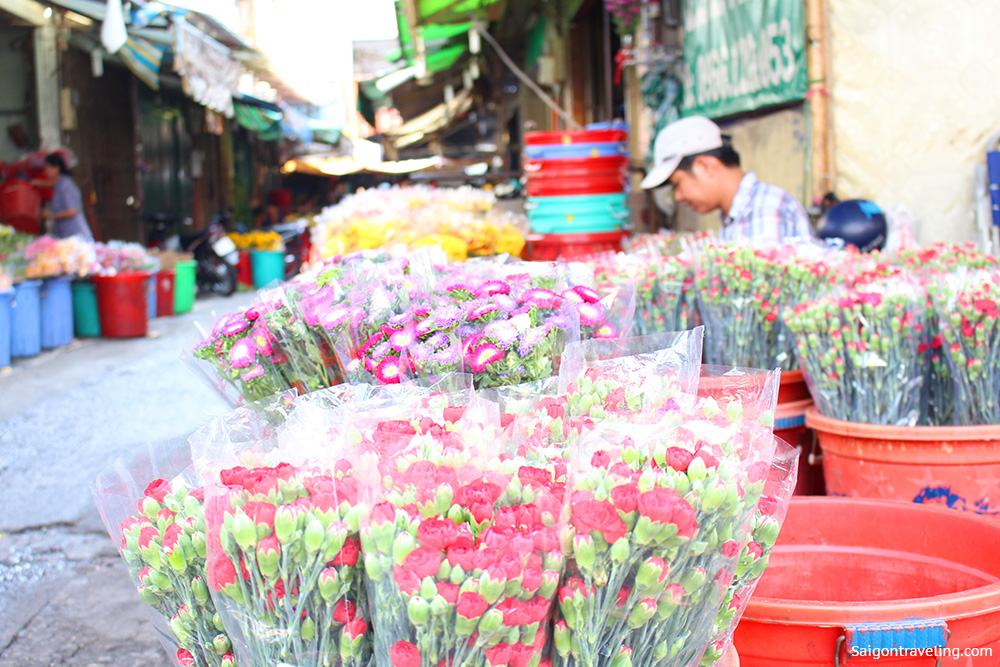 The market is open all day, but the most crowded is early morning and evening (Ho Thi Ky night market). The flowers here are mainly from Dalat, Mekong Delta, and other countries such as Hungary and the Netherlands.
From midnight to early morning, flowers from everywhere are brought here, they are cut, trimmed and packaged accordingly, and finally, they are shown on the shelves.
In the morning, traders come here to buy flowers, most of them buy large quantities to sell to the flower shop and in other markets. The scene is very bustling, bringing a characteristic of Saigon.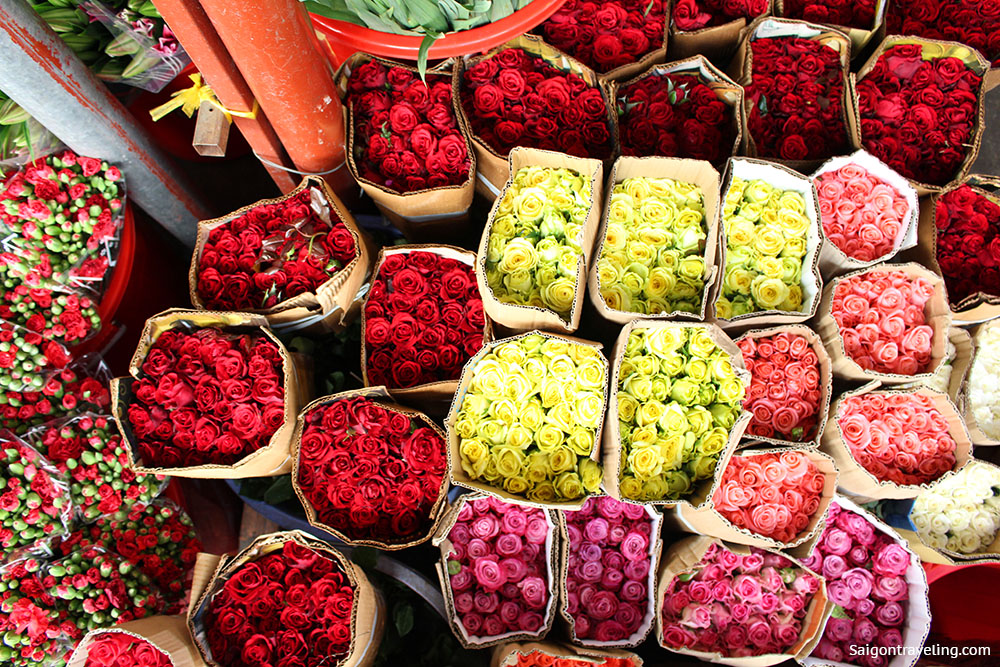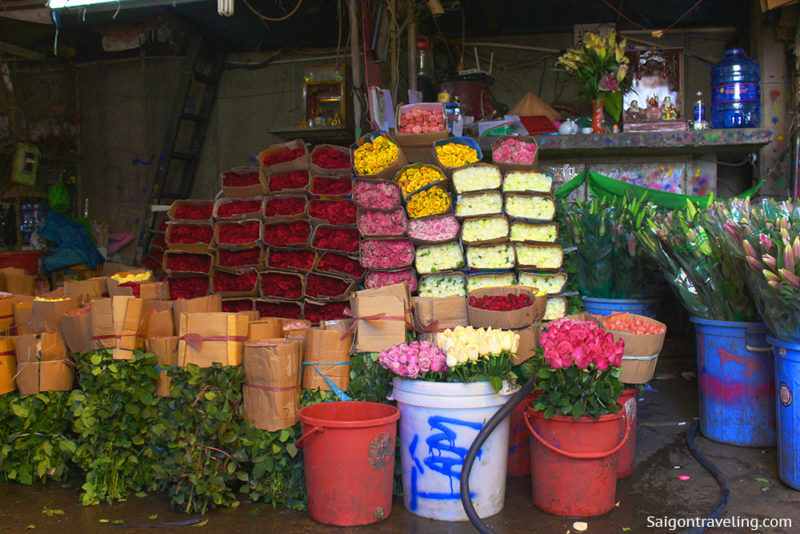 HOW TO GO
From Ben Thanh Market (city center) to Ho Thi Ky flower market is about 4 km, you can get there by bus, taxi or Grab. You should use google maps to get there easier. If you want to go by bus, you should install the Busmap app.
In departure, you enter: "Ben Thanh Market".
In destination, you enter: "Ho Thi Ky".
Then click on "Start" and follow the instructions.
Similarly, if you come from another place.
If you get there by taxi/grab, the cost around 50,000 Dong.
If you go there by bus, you take the bus number 02, the fare is 6000 Dong.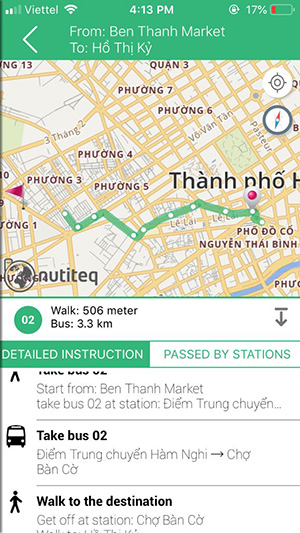 How to go to Ho Thi Ky flower market by Bus
EXPERIENCES
Saigon has long been known as the Pearl of Far East, experienced many years of ups and downs of war and development such as dancing in recent years. Saigon gradually lost its inherent nature, people everywhere poured here causing many problems,  some of them are lost friendly and warm, old houses are replaced by skyscrapers.
Ho Thi Ky flower market is a rare place that upholds the characteristic of the old Saigon. Saigon people are warm and simple as the flowers which they are holding for a life more beautiful.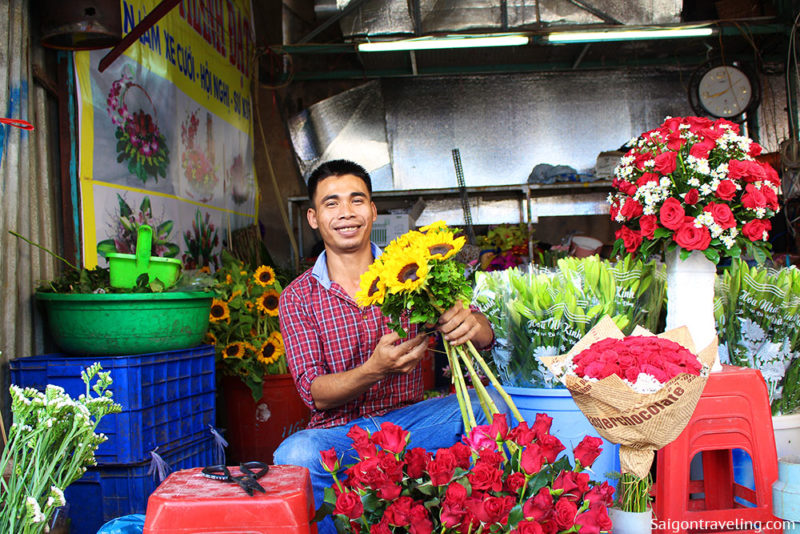 You should come here in the morning or in the evening to see the life and shopping of the people.
Surrounding the market are old apartment buildings, and eateries typical of the old Saigon. You should try some dishes such as Pho, Hu Tieu, Goi Cuon, and street food.
OUR SUGGESTIONS
We would like to introduce you to some restaurants that we found reasonable near the market. Ho Thi Ky flower market area is a street food paradise, so the food we recommend here is most street food. Most of the dishes here are sold to take away.
Che Co Co (Che): Address: 51 / 21 Ho Thi Ky;  Price: 10,000 - 30,000 dong/one; Opening: 7:00 PM - 7:00 PM.
Lau Bo Co Thao (Hotpot) Address: 84/10 Ho Thi Ky;   Price: 100,000 - 220,000 dong/hotpot (for 2 -4 people) ; Opening: 10:00 AM - 0:00 AM.
Sup Cua Thao (crab soup): Address: 68/4 Ho Thi Ky; Price: 15,000 - 20,000 dong; Opening: 2 PM - 8 PM.