Independence Palace
Independence Palace (or Reunification Palace) is a landmark in Ho Chi Minh City, located on the campus more than 12 hectares in the city center. While being there, you will feel the vicissitudes of history in Vietnam war. In addition, the unique architecture and airy promises an interesting trip!
Address: 135 Nam Ky Khoi Nghia Street, District 1, Ho Chi Minh City, Vietnam (central Ho Chi Minh city).
Opening: 7:30 am - 11:00 am; 13:00 pm - 16:00 pm.
Price: 40,000 dong.
Independence Palace was the workplace of the President of the Republic of Vietnam during the Vietnam War. It is tied to the vicissitudes of history, events of the times and anecdotes about feng shui.
It was built in 1966, on a 12-hectare campus in the center of Ho Chi Minh City, includes 3 main floors, 1 terrace, 2 mezzanines, ground floor, 2 basements and a landing platform for helicopters.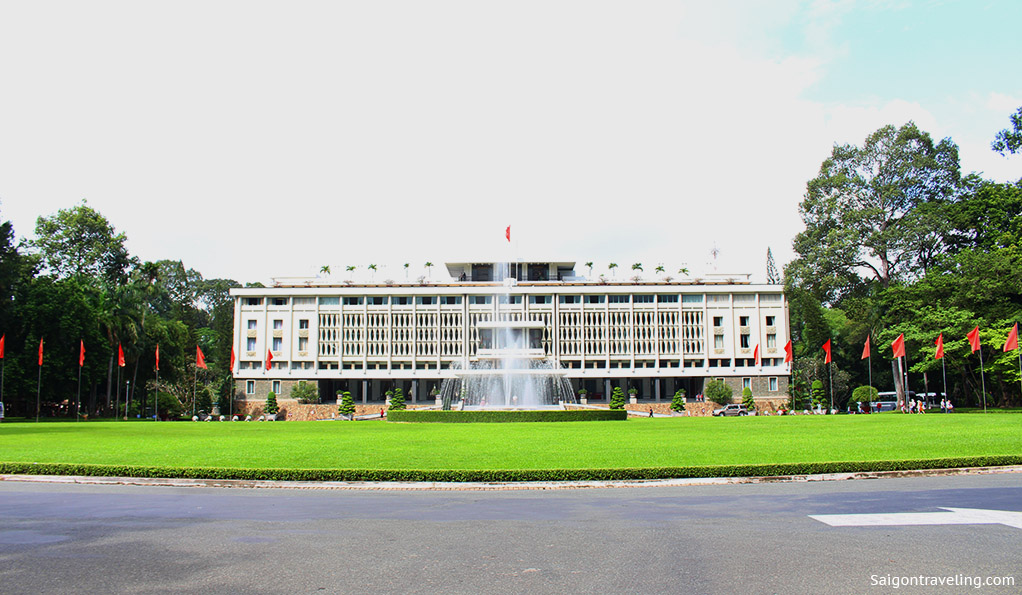 HOW TO GO
From Ben Thanh Market to Independence Palace is about 1 km, you can get there by bus, taxi or on foot. You should use google maps to get there easier. 
In departure, you enter: "Ben Thanh Market".
In destination, you enter: "Independence Palace".
Then click on "Start" and follow the instructions.
Similarly, if you depart from another place.
If you walk, you will take about 15 minutes.
If you get there by taxi/grab/Go-Viet, the cost around 20,000 dong.
if you choose to go by bus, you catch the bus number 52, then walk about 500m.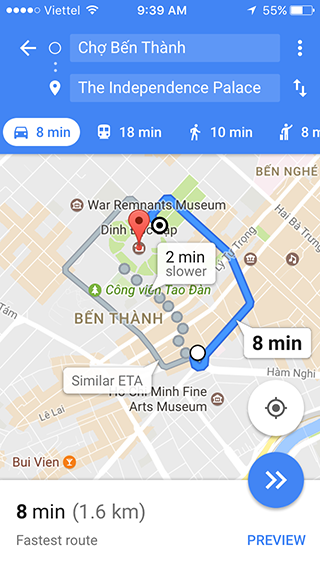 How to go to Independence Palace
EXPERIENCES
Independence Palace area is a lively area in Saigon: in front of is the park (the 30/4  park), near Notre Dame Cathedral, Saigon Central Post Office so you should take time to explore this area.
You can follow the guidelines or can hire a guide here.
You should visit the 30/4 Park and enjoy a cup of "bet coffee" its price is about 12,000 dong. You can also shop at Diamond Plaza (shopping mall), drinking coffee at Trung Nguyen or Highland and enjoying the view.
Independence Palace is one of the top 10 Places to Visit in Ho Chi Minh City.
OUR SUGGESTIONS
We would like to introduce you to some restaurants that we found reasonable near Independence Palace.
Quan An Ngon (Vietnamese food): Address: 138 Nam Ky Khoi Nghia Street;  Price: 100,000 - 200,000 dong/one; Opening: 7:00 AM - 10:00 PM.
Au Parc Restaurant (Suitable for vegetarians) Address: 23 Han Thuyen;  Price: 50,000 - 200,000 dong/dish; Opening: 7:30 AM - 11:00 PM.
Poke Saigon Ly Tu Trong (American style): Address: 42 bis Ly Tu Trong; Price: 50,000 -200,000 dong/dish; Opening: 10 AM - 9 PM.