Best Places to spend Christmas and New Year 2020 in Ho Chi Minh City
___
Ho Chi Minh City is the biggest and most modern city in Vietnam so every Christmas and New Year it is beautifully decorated. In addition to basking in the splendor of the over-street light decorations, tourists can join many interesting activities. Find the perfect Saigon gift and wrap yourself in the magic this Christmas!
1. Notre Dame Cathedral
Speaking about Christmas is speaking about churches, of course, the Notre Dame Cathedral is the first choice for you.
Notre Dame Cathedral is located in the downtown of Ho Chi Minh City. The cathedral was constructed between 1863 and 1880. With its unique architecture, it is also considered a symbol of Saigon along with Ben Thanh Market and is a place you should visit once, especially for those who follow Christianity.
During Christmas and New Year, this area is decorated beautifully, on Christmas Eve, tens of thousands of locals and visitors flock here, whether Catholic or not, if coming to Ho Chi Minh City this occasion, you must visit the Cathedral.
2. Nguyen Hue Walking Street
Nguyen Hue is a walking avenue in central District 1, Ho Chi Minh City, connecting Headquarters City People's Committee for Bach Dang Pier, Saigon River. Nguyen Hue is a beautiful and modern walking street in Saigon, where is the convergence of street bands, street artists and a large number of local people. Along with Bui Vien, this is a great place to experience Ho Chi Minh City nightlife.
Nguyen Hue Street is the center of the most magnificent of Saigon, so in the Christmas and New Year, this street is splendidly decorated.
3. Saigon Chinatown
Saigon Chinatown is a large area located in District 5, Ho Chi Minh City, Saigon people call is Cholon (the big market). There are many temples, homes, and clubs of Chinese and many Chinese are living here.
Here is considered the paradise of Christmas decorations, most of the markets and shops sell Christmas and New Year decorations. The prices of these items are very cheap, so from early morning to late evening here are busy buyers.
Come here, you will be lost on Christmas street with brilliant lights and decorations. And for sure, it will be a memorable Christmas season.
4. Bui Vien Street
It will be great if you have a Christmas party, Bui Vien was the perfect place to do it.
Bui Vien is a street in district 1 where many Western tourists choose to stay and relax (most of them are backpackers). This is the multinational and multicultural place because not only western tourists but also other locals and foreigners visit here.
Choosing a restaurant on the roadside, enjoy some bottles of Saigon beer with a few street foods, watch the passers-by, and maybe you will love Saigon from this moment.
Saigon beer is about 20 000 - 30 000 Dong /1 bottle. Foods are about 50 000 - 100 000 Dong/1 dish, it's listed in most restaurants here.
5. Ben Thanh Market
Ben Thanh Market is the biggest market in District 1 - The heart of Ho Chi Minh City. It was built in 1912, experienced many years of vicissitudes of the war with many restorations. It is now considered the symbol and soul of Saigon.
During Christmas and New Year, the market area is very bustling and splendid. You can take around Ben Thanh Market and enjoy some food as Goi Cuon, Che and Banh Xeo with prices ranging from 30000 to 100000 Dong/dish.
Address: Le Loi Street, Ben Thanh Ward, District 1, Ho Chi Minh City.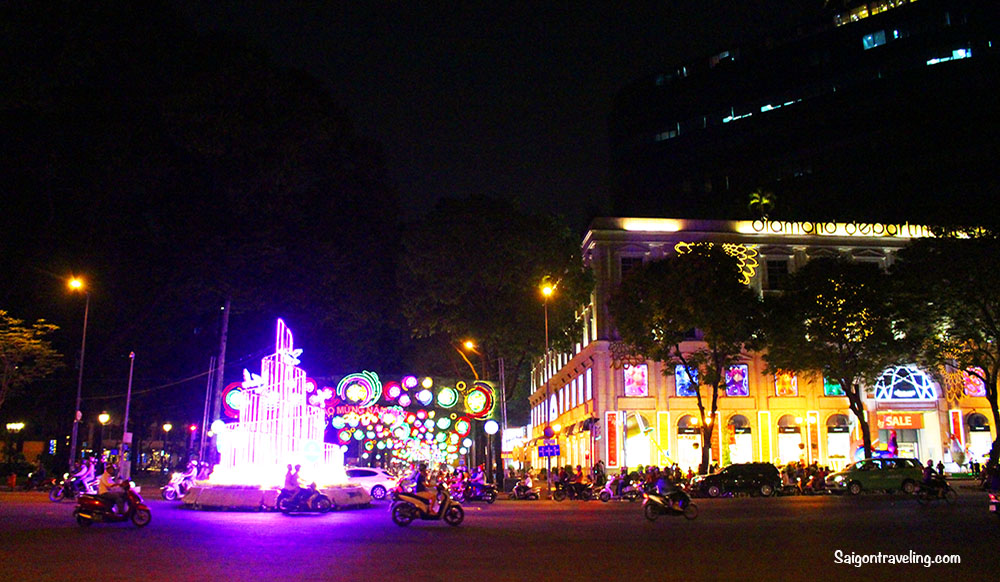 6. Diamond Plaza
Address: 34 Le Duan, Ben Nghe, District 1.
Located in the heart of Saigon, behind the Notre Dame Cathedral, next to the Saigon Central Post Office and surrounded by the park, Diamond Plaza is one of the most famous shopping centers in Saigon. With its unique design and magnificent decor, promises to be a great place for this Christmas.
From above of the building watching the Notre Dame Cathedral on Christmas Eve is an interesting experience.
7. Bach Dang Pier
Cruising on the Saigon River by cruise boat is an enjoyable experience in Saigon especially during Christmas and New Year. There are many types of cruise boats, most of operating from 6:30 pm - 10:00 pm. You can have dinner on the boat and enjoy the whole Saigon. It will be great when you watch the new year's fireworks here.
Wharf address: 05 Nguyen Tat Thanh, Ward 12, District 4 (next to Nha Rong Wharf). You can buy tickets directly at this address.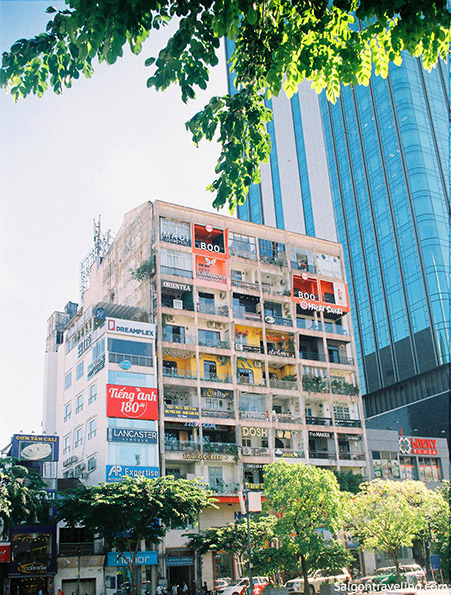 8. The building number 42
It is an old building on Nguyen Hue Street, especially all the apartments here have become the eateries, coffee shops and pubs. Each of them has a different style, choose a restaurant for Christmas and watch the crowds on the Nguyen Hue walking street, it will be definitely a great experience.
Address: 42 Nguyen Hue, Ben Nghe Ward, District 1.
Above are 8 Best Places to spend Christmas and New Year in Ho Chi Minh City in 2020. You can click on each image to see specific content or refer to the Destinations, Food & Drink, and Wiki columns for more information. Hope you have a good Christmas and New Year in Saigon.
Merry Christmas and Happy New Year 2020!