Motorcycle taxi
Motorcycle taxis are means quite special in Vietnam. The driver will take you on a motorcycle. Between you and the driver will negotiate the price with each other, usually around 4000 / km. Xe Om is no longer popular in Saigon when Grab came into Vietnam with better features.
Take A Motorcycle Taxi
Most motorcycle taxi operators are locals so it does not have a regulation similar between drivers, quite difficult to identify who is the taxi driver. Most drivers wear the blue shirt as a sign. But you just standing still for two minutes there will be a driver to ask you. Then you need to say the place you want to go to the driver. Drivers will indicate the fare, if reasonable, you can go, otherwise, you can refuse.
The fare is mainly decided by the driver should not have any specific regulations. However the fare always is cheaper than taxis,  the average cost to move 5 kilometers about 20,000 dong.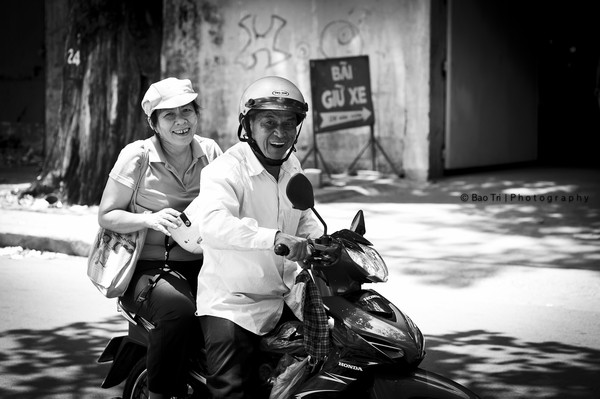 A motorcycle taxi  driver
Experiences
Most drivers are not fluent in English, you need to specify the location to go. Or you can point out the place on the map or smartphone.
The majority of drivers are spontaneous, no assurance company so the quality may not be as good as taxis.
Motorcycle taxi is still some problems as some attitude of drivers are not good, high prices and harassing tourists, however, these cases are minorities.
Ignore all the problems, we recommend that you try once by motorcycle taxi because it is a characteristic in Vietnam, sitting on a motorcycle, surfing on roads and see the world in the roadside, it will be a beautiful memories whenever you remember Vietnam.